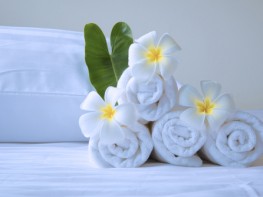 Crisp, fresh & clean linen for all occasions.
When you're looking for a company that will provide nothing less than fresh, hygienic and well-presented linen, contact Tema Services for linen hire in Perth. Regarded as one of the most trusted companies in the industry, we'll provide you with affordable and convenient linen hire solutions, maintaining the best standards for your business or next function.
You can set the tone for your event and make a good impression with stylised, clean and fresh linen. Our products are made from the finest materials, and are designed to complement fittings, tables, bathrooms, and mattresses of all shapes and sizes. Hygienic and fresh, every piece of linen is strictly cleaned and treated to meet the strict health requirements of the industry.
Favoured by clients who need event linen for private functions such as weddings and parties, as well as restaurant linen for cafes, catering businesses and hotels, our product range includes, but is not limited to:
Bath linen
Bed linen
Table linen
Party hire
Wedding hire
Our promise to you:
We arrive on time, every time and work around your schedule
We deliver on all our promises
Your requirements are identified and respectively met by our friendly staff
All problems are attended to immediately by our onsite and fully trained staff members
Hotel linen
A requisite for hotels is to maintain high-quality linen for client comfort and health. We collect your business linen for treating, washing and folding, returning them to you crisp and fresh. If required, you can rent additional bedding, table linen and bath linen, we offer an exchange service to ensure your clean linen inventory is well maintained at all times, while we launder your permanent stock.
Private events
Weddings, birthday parties and celebrations call for high-quality linen to set the tone for your function. Choose what you need from our wide selection of linen overlays, table cloths, napkins, chair covers and table runners, in various colours and styles to suit your theme, and tables and chairs of all shapes and sizes.
Restaurants
Your restaurant business naturally calls for you to keep a stock of crisp tablecloths and napkins, which need regular cleaning. Tema collects restaurant linen for washing and folding, and then delivers the stock directly to your door. If you find you are running low on table covers, we also offer table cloth hire. This ensures you always give your clients a comfortable dining experience, without sacrificing on quality service offerings.
You take pride in your customer service and attention to detail, which are the same principles that we operate under, so you can rest assured that we'll put your needs first. Contact us. We're a team you can trust.