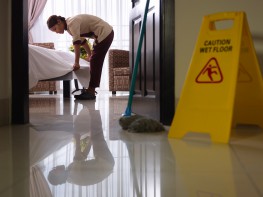 Commercial cleaning services
Tema Services Pty Ltd was established in 1993. Initially, our main focus was commercial cleaning, building up our reputation by delivering continuous, excellent customer service. Today we have extended our services and now offer a commercial laundry, and a linen hire service.
Based in Perth, we are dedicated to delivering consistent, quality solutions in a clean and healthy working environment.
By providing a range of excellent services it ensures that;
You can get on with your business, knowing that your cleaning and hygiene requirements will be automatically looked after.
You have peace of mind that you have only one authorised service provider on your premises.
You are utilising your manpower resources to their best effect.
At Tema Services Group, our mission is to be your one stop cleaning shop in Perth, one that is highly committed to excellence in client care, and offers a total, reliable commercial cleaning service.
We work one on one with our clientele allowing our customers to communicate freely with our staff. This ensures your individual needs and wants are met, and that a happy working relationship is established early on, and extends to the end of the project and onto the next one.
Contact us for an obligation free quote.