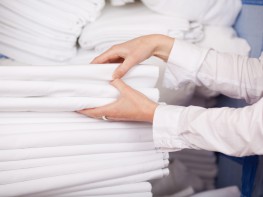 The convenience of commercial wash, dry and fold laundry services.
If you are looking for a specialist in commercial and industrial laundry services that are fast, reliable and professional, contact Laundry Express at Tema Services. Count on us to cater to all your commercial laundry requirements, which include linen hire. Regardless of the size of your hotel, we will collect your laundry as often as required and return it clean, folded and fresh; we also hire out linen if you require.
It's a given that your hotel will always need linen, which is why we provide clean, hire linen temporary supplies while you wait for your freshly cleaned laundry to be returned. Our laundry solutions include paper writer online collecting your table linen, towels, bedding, and uniforms and coveralls for cleaning. We can also provide you with temporary hire linen substitutes to keep you going until your laundry is returned. It's one of the reasons why we're the preferred choice for a wide variety of clients.
We've supplied commercial operations, function centres, restaurants, universities, medical centres and hairdressers with our products. Our fully equipped laundry facilities are equipped with state-of-the-art industrial cleaning machinery, which is operated by our skilled staff, ensuring your items are taken care of and hygienically cleaned, meeting all hospitality standards.
Hotel linen
As hotel linen suppliers, we supply a wide range of Perth accommodation establishments, hospitality providers, event venues and health facilities with clean, high quality hotel linen products. From kitchen towels and wash cloths to well-ironed table linen and other requirements, we have it all. We also collect all your dirty laundry as often as required, replacing it with clean and ready-to-use linen.
Linen hire
We offer full linen hire services. Whatever your linen requirements, we can supply you with everything. Even if you're throwing a party for 1000 of your nearest and dearest, we've got your tables covered. Your corporate events will need commercial linen hire, contact us. No order is too big or too small, and there's no need to buy linen for just one function. Our high quality linen hire will impress you and your guests. We drop off and pick up.  
Industrial laundry services
Our industrial commercial laundry services are used throughout Perth and by multiple businesses. Whether you employ two staff or 2000, we can efficiently collect, wash, fold and return your company laundry. We'll collect the dirty uniforms and replace it with fresh ones. Whether you use us as a once-off service or on a regular basis we always provide nothing less than premium quality service to all industries, including:
Hospitality – food & beverage
Accommodation
Medical
Linen hire
To discuss the development of a laundry program tailored to your business needs, contact us. We provide a laundry service providing professionally washed and dried linen as and when you need it. We don't air your dirty laundry, we clean it.